About Us
Lou Boudreau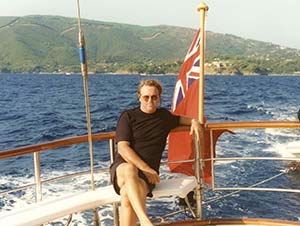 Captain Lou Boudreau was born in Baddeck, Nova Scotia, and first went to sea when he was six months old aboard the famous 98 foot schooner "Yankee". His father owned and sailed the schooner in the beautiful Bras D'Or Lakes of Cape Breton. When Lou was about one year old, he took his first ocean voyage aboard the schooner "Doubloon" with his mother and father. This momentous first sail aboard this large schooner would take Lou away from Canada and onto a life of adventure in the warmer islands of the Caribbean.
Growing up aboard his father's schooners and on the island of St. Lucia, Lou spent a magical childhood exploring every nook and cranny of these large yachts, and under the guidance of his father, learned the ropes of life at sea. Spending most of his early life in Marigot Bay, St. Lucia, Lou became fluent in Patois, the local language of St. Lucia. He would spend time free diving and spear-fishing in the crystal clear waters of the islands and would inevitably bring back lots of lobster, conch and other delicious seafood for the charter guests onboard the family's yachts.
As a young adult, Lou began sailing as a crew member with his father and, after sitting for his Master's papers, he went on to skipper the 90 foot ketch "Atlanta", and the 138 foot Hereshoff schooner "Mariette". Over the years, Captain Lou Boudreau has been fortunate to have skippered some of the world's finest yachts. As a marine & tourism consultant Capt. Lou has built and operated marinas and been involved in the tourism industry  in the hotel, & sport fishing industry.
Now Lou's writing and James songs bring all this to life.
As well as owner of Tradewinds, he has also written some books; "The Man Who Loved Schooners" was published in 2000. A fictional novel "Fandango's Gold" was published in 2006 and "Where the Trade Winds Blow", published in 2012, chronicles his own life.
Biography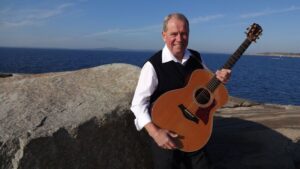 James Devine
James Devine is an award-winning singer/songwriter of Maritime
Folk Music based in Bridgewater , Nova Scotia . With family roots in Woods
Harbour , a small fishing community on the south shor of NS , James has loved
the sea since childhood .
Over the past few years , James' songs reminiscing the sea have been
well received by his audiences during various local performances .
His song " The Brave That Go To Sea " won an award in the
International Songwriting Competition in Nashville 2009 .
James has since played live music alongside many great Canadian
musicians , including Cape Breton-based Joseph , fiddlerfrom Cheticamp and
Sean McCabe from Millers Jug .
James was also lead singer and guitarist in the Nova Scotia band
Emerald Tide which played numerious concerts in Halifax , including opening
for the Irish Descendants at the Greenwwod Airforce Base 2006 .
James' upcoming album will feature by Nova Scotian awardwinning
multi-instrumentalist and producer JP Cormier . With this album
James aspires to perform at concerts and exhibitions throughout the Atlantic
provinces and beyond .
Stay tuned for upcoming performance dates and a timeless album that all
ages will enjoy for many years to come .